This post is part of a giveaway at Tamara's blog.
Please click on her tag below to find out more!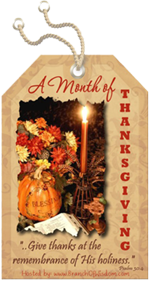 This morning, I thank the Lord for sisters. No, I don't have any. Nor do I have daughters. But I have so many wise and wonderful
heart-sisters
! I share my life with my husband, and we are one in the Lord, but there's something about a sister who knows and understands.
I couldn't find a verse to describe my heart-sisters, but these verses show a little of how we love each other.
So, as those who have been chosen of God, holy and beloved,
put on a heart of compassion, kindness, humility, gentleness and patience;
bearing with one another, and forgiving each other,
whoever has a complaint against anyone;
just as the Lord forgave you, so also should you.
Beyond all these things put on love,
which is the perfect bond of unity.
Thank You, Lord, for heart-sisters!!
Please visit
Tamara's blog
to find out more about Month of Thanksgiving,
to be encouraged by others' blessings,
and to participate!
Back to life,
Christine
visit my photography blog!
captured by Christine Anne