This post is part of a giveaway at Tamara's blog.
Please click on her tag below to find out more!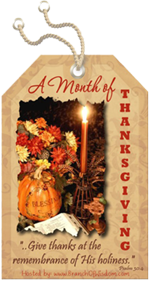 Today I thank the Lord for
hands to work
, that set to the task and see it through. (Thomas' hands are featured in this post!)
The Lord has given me two hands, a dominant hand and a helper hand. I need them both in order to perform the many tasks before me in my day.
The helper hand may hold a nail, and the dominant hand may swing the hammer--but neither hand is more important than the other. I need them both!
I praise the Lord for the hands in my household, busy about the work of the Lord.
Poor is he who works with a negligent hand,
But the hand of the diligent makes rich.
A man will be satisfied with good by the fruit of his words,
And the deeds of a man's hands will return to him.
Regarding the woman who fears the LORD:
Give her the product of her hands,
And let her works praise her in the gates.
Thank You, Lord, for
hands
.
Please visit
Tamara's blog
to find out more about Month of Thanksgiving,
to be encouraged by others' blessings,
and to participate!
Back to life,
Christine
visit my photography blog!
captured by Christine Anne