This post is part of a giveaway at Tamara's blog.
Please click on her tag below to find out more!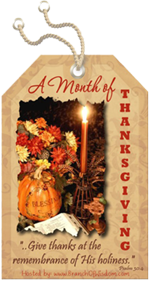 Today I thank the Lord for
teenagers
, and more specifically,
teenage sons
! They are amazing, marvelous people, and I have enjoyed the presence of four very different ones in my home.
Danny, the 17-year-old
Since both photos are of Danny, I particularly thank the Lord for
this amazing teenager
. Boy, this little guy was interesting--we half-jokingly said that if Danny made it alive to his fifth birthday, we would have a Miracle Birthday Party. He did, so we did! He was Superboy--able to slide down a staircase in ten seconds flat, scale a chain-link fence barefoot before we could blink, climb on top of the washer or dryer unassisted, and fearlessly climb out onto the roof to make a bed for himself for the evening. Um--these were all before the age of four...
To see the young man of God that Danny has become is truly a miracle. He is tender-hearted--all little children love him--and yet practical, and can be heard singing (beautifully) at any given moment.
Each of our sons has his own personality and character, and I still marvel that the Lord used Fernando and me to create four completely separate and unique individuals to the praise of His glory.
Danny, 85% done with his college English essay
Our four sons are goofy and serious, loud and introspective. They're in each others' rooms, lives, and conversations. (They're in the fridge a lot, too!) God has forged their bond of brotherhood, both by blood and by the Spirit, for eternity! Thank You, Lord, for
teenage sons
! And thank You for
Danny
!!
Let our sons in their youth be as grown-up plants...
Please visit
Tamara's blog
to find out more about Month of Thanksgiving,
to be encouraged by others' blessings,
and to participate!
Back to life,
Christine
visit my photography blog!
captured by Christine Anne