This post is part of a giveaway at Tamara's blog.
Please click on her tag below to find out more!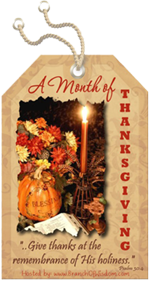 Today I thank the Lord for my husband. Fernando is as unique as his name, and we're all sure that God created him, then broke the mold.
I have said that his eyes are the color of joy, and he brings laughter like a good medicine to our home. He balances me in every way!
He leads his family and his sons love him. So do I. :)
May he kiss me with the kisses of his mouth!
For your love is better than wine.
Thank You, Lord, for my husband.
Please visit
Tamara's blog
to find out more about Month of Thanksgiving,
to be encouraged by others' blessings,
and to participate!
Back to life,
Christine
visit my photography blog!
captured by Christine Anne