This post is part of a giveaway at Tamara's blog.
Please click on her tag below to find out more!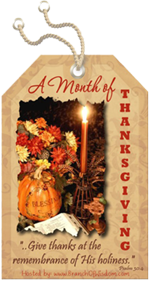 Today I thank the Lord for a
garden harvest
in November. I've had a vegetable garden for three or four years, but have never enjoyed its sweet (fresh) rewards into November, or even October! My tomato plants were usually done by the end of September, and that was that.
My garden harvest reminds me of God's
bountiful blessings
in my life--not only of food for the belly, but nourishment for my soul, my husband, children, family, heart-sisters, a warm house... Thank You, Lord, for working in my life to produce the fruit of Your Spirit!
Please visit
Tamara's blog
to find out more about Month of Thanksgiving,
to be encouraged by others' blessings,
and to participate!
Back to life,
Christine
visit my photography blog!
captured by Christine Anne