This post is part of a giveaway at Tamara's blog.
Please click on her tag below to find out more!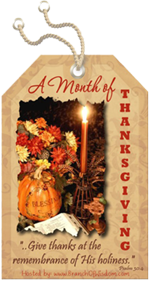 Today I thank the Lord for
His food
, both physical to nourish the body, and spiritual to nourish the soul. In our fallen state, our bodies grow weak and require food and water to function. The growling emptiness and the dry thirst remind us that we are weak, and that we need to rely on Him for strength.
Just as our physical bodies grow weak without nourishment, our spiritual souls require food. Fellowship with the Lord--in reading and prayer--and spiritual sharpening with our spouses, children, and the community of believers is vital to the growth of our souls.
He has made His wonders to be remembered;
The LORD is gracious and compassionate.
He has given food to those who fear Him;
He will remember His covenant forever.
He has made known to His people the power of His works,
In giving them the heritage of the nations.
Psalm 111:4-6 nasb
[emphasis mine]
Please visit
Tamara's blog
to find out more about Month of Thanksgiving,
to be encouraged by others' blessings,
and to participate!
Back to life,
Christine
visit my photography blog!
captured by Christine Anne