This post is part of a giveaway at Tamara's blog.
Please click on her tag below to find out more!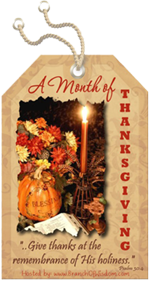 Today I thank You, Lord, for
color
. Some animals see in black and white, but you made us to see in color--the reds and oranges and yellows in a sunset, the sweet green grass, all the shades of a blue sky, the purples in the rainbow...
Now that autumn is fully upon us here in the Midwest, I appreciate color even more. To my delight, as Thomas and I cleared out the dead brush from my front yard garden, I noted that even my blue oat grass glowed with autumn light as the sun hit that latening hour when dull, fading brown turns to molten shimmer.
As I cleared brush and leaves, I also discovered a few fading flowers on the beard tongue, hanging on until the hard frost arrives.
I love this little plant, which happily grows without much care. It is especially colorful when it begins to bloom in early summer: flowers appear, arrayed in bright pink, then with time turn to darker red, then purple, as they complete the blooming cycle. At any given time, all of these colors are displayed and create a bright and colorful corner in my garden.
There will be color in heaven!
The material of the wall was jasper;
and the city was pure gold, like clear glass.
The foundation stones of the city wall
were adorned with every kind of precious stone...
...jasper...sapphire...chalcedony...emerald...
...sardonyx...sardius...chrysolite...beryl...
...topaz...chrysoprase...jacinth...amethyst...
And the twelve gates were twelve pearls;
each one of the gates was a single pearl.
And the street of the city was pure gold,
like transparent glass.
Thank You, Lord, for
colors
!
Please visit
Tamara's blog
to find out more about Month of Thanksgiving,
to be encouraged by others' blessings,
and to participate!
Back to life,
Christine
visit my photography blog!
captured by Christine Anne