This post is part of a giveaway at Tamara's blog.
Please click on her tag below to find out more!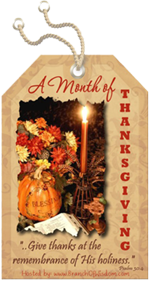 In one of my earlier Thanksgiving posts, I referenced the hymn
Great is Thy Faithfulness
. I shared the verse about "summer and winter, and springtime, and harvest." I was reminded of this verse again as I ventured out into the
cold
breezy afternoon yesterday! We reached 76 degrees just a few days ago, and yesterday, I was wearing a sweater and actually used a
coat
. Which brings me to today's post.
The Lord's mighty hand created this earth and made it to spin. He also made it to tilt on its axis and rotate around the sun. This gives us our seasons. Just as I navigate each season with preparation (getting out summer clothing, for example), and anticipation (awaiting Thanksgiving!), I move through the seasons in life with the same disciplines--submitting to the Lord when trials come, patiently learning Biblical teaching, eagerly looking forward to what the Lord is doing in my life.
Today, I am thankful for
the seasons
--both the spiritual ones, and the physical ones. Especially autumn!
Please visit Tamara's blog to find out more about her Month of Thanksgiving,
to be encouraged by others' blessings,
and to participate!
Back to life,
Christine
visit my photography blog!
captured by Christine Anne