This post is part of a giveaway at Tamara's blog.
Please click on her tag below to find out more!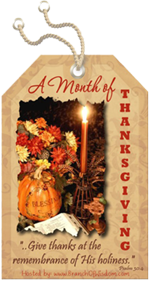 I'm wearing a sweater today! (That is totally unrelated to this post, but I wanted to share it.)
Today, I'm thankful for sons who love each other.
This is Thomas (14) and Danny (17), my two youngest sons. They have shared lives and a bedroom, toys and books, schoolwork and play. They are complete opposites in personality. Isn't it amazing how God does that with siblings? Danny even taught Thomas to read--I directed him, he taught.
They love each other. I thank the Lord for them every day.
Please visit
Tamara
at her blog to read more blessings, to be encouraged in thankfulness, and to find out how you can participate!
Back to life,
Christine
visit my photography blog!
captured by Christine Anne