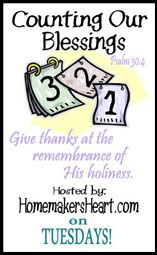 Join us at Tamara's blog by clicking above!!
There are two particular things for which I'm praising the Lord today. First...
...a husband who has a heart to the next generation, who sees the vision of passing His Word to his sons. The image above shows a new phase in our family devotions, which changes its look every now and then and which did so this past week. We have been meeting later each evening in the family room to listen to the Word on tape (yes, cassette tape--it's easier than CD because you can stop playing, and start right where you left off). We listen to just a few chapters at a time, then have a time of family discussion and Bible study. This has been such a rich time of conversation, now that the boys are older! They have contributed to many fascinating and interesting discussions this past week.
We will not conceal them from their children,
But tell to the generation to come the praises of the LORD,
And His strength and His wondrous works that He has done.
Secondly, as I sat at the computer this morning, contemplating this day, I remembered a similar day--the same date, actually--a long time ago, in a bedroom in my home, late at night. A 16-year-old girl, without hope, desolate and dead in her sins, listened over the telephone as a friend shared Jesus with her. And that night, God's salvation shone in her heart and filled her with the fullness of His grace as she prayed with her friend and surrendered her life to Jesus.
Christine
February 8, 1982
Born to New Life in Christ
And you wre dead in your trespasses and sins...
and were by nature children of wrath...
BUT GOD,
being rich in mercy, because of His great love with which He loved us,
even when we were dead in our transgressions,
made us alive together with Christ (by grace you have been saved),
and raised us up with Him, and seated us with Him in the heavenly places in Christ Jesus,
so that in the ages to come He might show the surpassing riches of His grace in kindness
toward us in Christ Jesus.
Ephesians 2:1-7 nasb [some verses partially quoted; red bold caps mine]
Back to life,
Christine
visit my photography blog!
christine anne photography