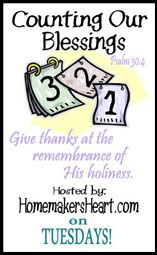 Join us in counting our blessings by clicking above to visit Tamara's blog.
Oh, how I praise the name of my heavenly Father, who adds to His Kingdom those He has chosen.
Our sweet Joseph
Joseph has struggled with faith and doubt these past three or four years. He has asked the tough questions: Why did God make me like this? Why did He give me autism? What is the purpose? How come He hasn't healed me? He has had agonizing conversations with his dad, struggling to put his thoughts and emotions into words. And his dad has been so patient with him, giving words for those thoughts, the things locked up in Joseph's head.
On Sunday, February 13, Joseph, with the help of his dad, surrendered his life to Christ once and for all. Doubts about the future may linger, struggles on the path are certain, but Joseph belongs to Him now. And there is no doubt about
that
.
How blessed is he whose transgression is forgiven,
Whose sin is covered!
Psalm 32:1 nasb
So then you are no longer strangers and aliens,
but you are fellow citizens with the saints,
and are of God's household.
Ephesians 2:19 nasb
Back to life,
Christine
visit my photography blog!
christine anne photography