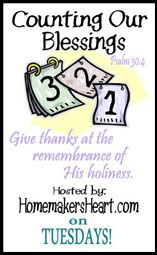 Join us at Tamara's blog by clicking above!!
I don't like to submit a post without a photo. It just doesn't seem right to me. So, when it comes time for me to share my "count my blessings" with Tamara on Tuesday, I find that I don't have a photo that accurately reflects something I'm thankful for. So I end up not sharing anything. Please be assured, however, that I count my blessings by thanking the Lord! Which is the more important thing to do. But today, I'm happy that I have a photo or two that reflects God's bountiful blessings in my life.
My friend
Lori
is amazing/wonderful/great/etc.! She has helped me design my blog headers since I started blogging last autumn. I restrict her to plain and simple, and that is not her style. But she gives me ideas and does these incredible (I think) things that make my blog header beautiful, and that make my blog a place I want to stop by to visit my visitors. :) So first of all, I'm thankful for Lori.
Lori and I were emailing back and forth yesterday morning about my blog, and I tried calling her twice. I wanted to communicate over the phone, which sometimes can eliminate any confusion caused by emails flying back and forth. When there was no answer, I remembered their business phone! Sure enough, she answered, and within three minutes, we had a plan. No, not for the blog--the guys and I were to COME OVER so Lori and I could work on the blog together, and then we were to stay for dinner! A much better plan, in my opinion.
And so second of all, I am thankful for friends, and their warm hospitality on snowy days. :)
And third of all, I am thankful for godly young men who are friends with our own young men. The afternoon turned into a game fest, though Jacob worked on some college homework. They all really did bring their schoolbooks!
playing Settlers of Catan
Fourth of all, I'm thankful for surprise visitors, two of whom joined in the game above. Lori forgot that another friend was supposed to come over, and she graciously invited her and her two children in for a ladies' afternoon of high school planning and blog header creating.
Fifth of all, I thank the Lord for an afternoon and evening spent in the company of Godly friends (and one silly dog).
Sunny hopes for a treat
Back to life,
Christine
visit my photography blog!
christine anne photography