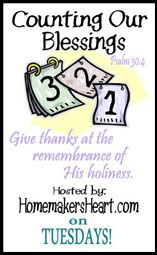 Join us at Tamara's blog by clicking above!!
Food Report
We have been blessed in our grocery budget lately--meaning that we haven't had to spend as much as we normally would! The Lord has seen fit to bless us in two ways: 1) through food stored up either by canning or in the freezer, and 2) through others. We have thanked Him (and them!) more than once as we enjoyed tasty meals and side dishes. And once again, several potential big bills are looming, and my mind wonders how we're going to pay for them, even as the Holy Spirit reassures my heart that I am His.
Do not fret, dear child. You are mine.
We enjoyed blueberry muffins for breakfast once last week, with blueberries picked this past summer and stored in our freezer.
We used this tasty hors d'oeuvre as a topping for our spaghetti one evening. It is a cream cheese, pesto, and dried tomato molded dip for bread or crackers. Boy, was it tasty on our Italian! Danny and his dad "fought" over the last portion for tonight's leftover pasta dinner. :)
We made the usual two pounds of spaghetti, a mixture of regular organic and whole-wheat organic. My five men can eat a lot!
We also pulled out of the freezer a package of fresh-sliced mozzarella cheese to use as a topping for our pasta. We were blessed with a number of packages, and this was the last one. Since I'm part Italian, I savored every bite of this; there is nothing like the taste of fresh mozzarella. :)
Below is the finished product on my plate,
sans
the cream cheese/pesto topping.
I was also able to add some sliced hot Italian sausage to the spaghetti sauce, part of which came from my canned supply of sauce. Every time I looked in the freezer, I found another package of this wonderful sausage from
Nature's Choice Farm
. It reminded me of the account of the widow whose jar of oil never ran out. I remember purchasing a few packages of the sausage, but we've eaten it once a week for the past month. Either way, God is good.
Thank You, Lord, for feeding our family with good food!
Back to life,
Christine
visit my photography blog!
captured by Christine Anne