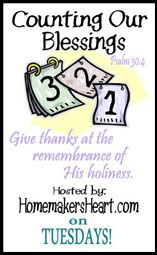 Join us at Tamara's blog by clicking above!!
Yes, I'm posting late today. But it has been busy around here--a good busy. We've had normal family times, too, throughout the week. I can't say
quiet
times because our home is anything but quiet with five guys here!
Today I thank the Lord for a husband whose name means
brave
. He was brave to take those scissors and cut someone's hair--his first time ever!
We were both a little shocked at the almost eight inches he cut off, but we both can now say that we like what he did with my hair. ;)
photo courtesy of Danny
Back to life,
Christine
visit my photography blog!
captured by Christine Anne